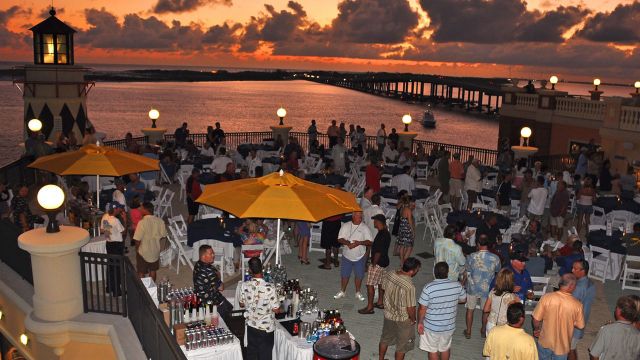 Author John Shelton Reed declared that "Southern barbecue is the closest thing we have in the U.S. to Europe's wines or cheeses; drive a hundred miles and the barbecue changes." If you are ready to try the Emerald Coast's unique brand of barbecue, be sure to attend the Blues, Brews and BBQ Festival in November. Located minutes away from our bed and breakfast in Destin, this annual event will feature live music, craft beer and world class barbecue.
Healthy Competition
On Saturday November 9th from 11am – 4 pm, local restaurateurs will gather at the HarborWalk Village to face off in a no-holds-barred barbecue competition. Classically trained chefs will battle for coveted titles including "Best Traditional BBQ", "Best Seafood BBQ" and "Most Original BBQ". Guests at the festival will have the chance to sample all of the delectable creations and to vote for their favorite dish. The 1st, 2nd and 3rd place winners of the People's Choice Award will receive a large donation to the non-profit of their choice.
More Than Just BBQ
In addition to the excellent food, the festival will also feature rockin' tunes from a three stellar bands. The Modern Eldorados, The Blenders and the Season Ammons Band will perform toe tapping country, rockabilly, jazz and soul songs throughout the day. As you listen to the music and enjoy some delicious barbecue, you can also sip one of the 25+ craft beers offered at the festival.
After living it up at the Blues, Brews and BBQ Festival, you will be ready to retire to our bed and breakfast in Destin. The Henderson Park Inn is a picturesque beachfront hotel featuring complimentary breakfast, an onsite cocktail bar and balconies overlooking the Gulf of Mexico. With incredible amenities and an unbeatable location, it is easy to see why the Henderson Park Inn was voted the most romantic hotel in North America. Visit our Rooms and Rates page to find the perfect suite for your next vacation!